I Give Up
Maybe I should just apply it directly to my hips!
The Right Stuff
I know this is the right way to diet, but the problem is, nothing tastes as good as chocolate or anything else sweet. For me, no matter how big the package might be, the label should read, "one serving equals entire bag."
Age Twelve
At age twelve, I am 5'2" tall and weigh 124 pounds. The pediatrician tells my mother I am fat and prescribes a diet, thereby sending me into a lifetime of secret eating. I like anything that starts with "c," such as cheese, candy, or cookies, preferably eaten while reading.
I do believe that the lies I've told myself are common to all addicts, like "I'll just have one more and then stop." This has nothing to do with actual hunger; many times I binged past the point of feeling sick, then went on to eat dinner because I didn't want anyone to know.
Family Values
CHUBBY = HEALTHY + HAPPY

This was my grandparents' philosophy. Understandably so, since fear of famine was real where they came from. One of my grandfathers decided to emigrate from Eastern Europe when all the food he had to his name was 24 beans, with no prospect of more. I like to think of him climbing a beanstalk to a land of milk and honeycake.
Having enough food was always very important in my family.
Day of the Cheese
"Ess, ess, mein kind." The devoted efforts of my parents and grandparents have managed to plump me up from a scrawny 5-pound infant to the 2-year-old chubbette seen here.
I remember this day well. Waiting for the photographer, my mother gave me two slices of cheese, one for each hand, a thrill for a little girl who loved the stuff. I ate one and thought, "I still have another one," but looked for it in vain.
Realization dawned – I had eaten it. The feeling of a disconnect about the relationship of food to reality has stayed with me to this day.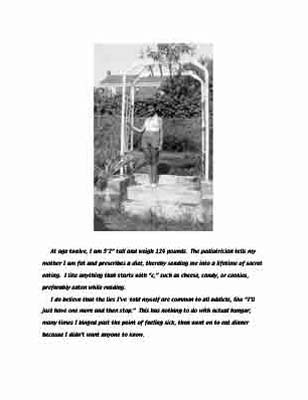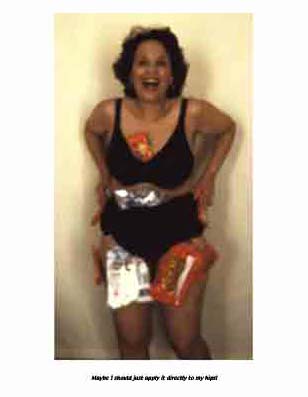 Flimsy Excuse
I'm only buying these for the trick-or-treaters.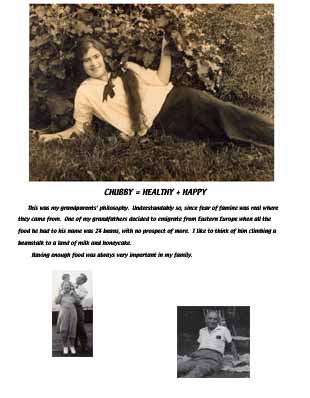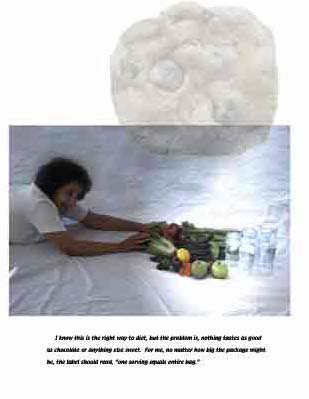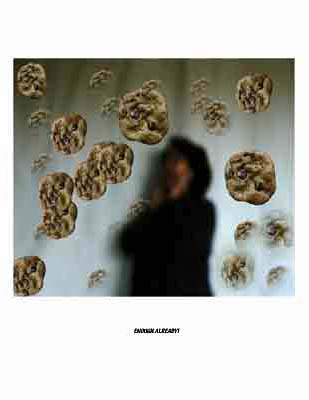 The Scream
ENOUGH ALREADY!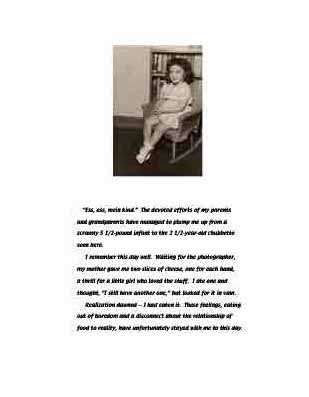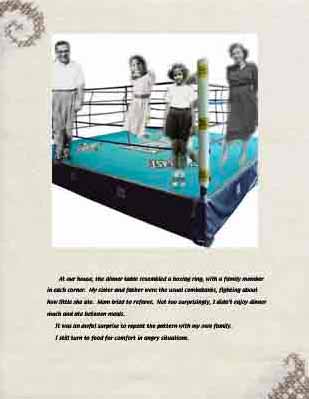 mouse over for text - - - slide bar to see other pages
Family Dinner
At our house, the dinner table resembled a boxing ring, with a family member in each corner. My sister and father were the usual combatants, fighting about how little she ate. Mom tried to referee. Not too surprisingly, I didn't enjoy dinner much and ate between meals.
It was an awful surprise to repeat the pattern with my own family.
I still turn to food for comfort in angry situations.